Coaching und Training
Management training is an essential factor for successful implementation of a corporate strategy for change. Well-trained staff provide top management with the certainty that the right skills are in place and available when required. Our coaching and training provide direct support for implementation of management development programs to meet the business goals of your company.
Coaching and training focus on the occupational skills needed by all members of the organization. Training and coaching increase the technical, but also the social and personal competencies of both managers and employees. We offer self-contained training modules that focus on personal development at levels both theoretical and practical. Coaching is offered to both individuals and teams, and training sessions are provided to both small and large groups. Our core competence is the designing of organizational development programs that include individuals, managers, management teams, and work teams.
The following sequence of analytical steps are employed to develop manger and employee competencies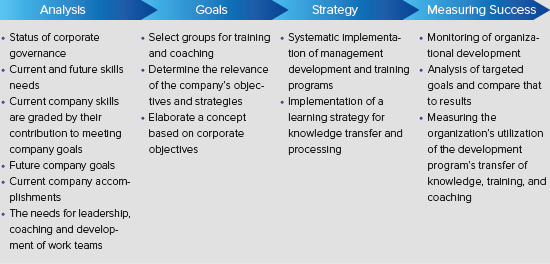 Services we provide for coaching and training
Development of management skills

Executive leadership training at the individual level

Coaching and training of management skills for young executives

Leadership group workshops

To constructively resolve organizational conflicts and difficult situations

Performance management assessment for managers and work teams

Communication within a work team for effective collaboration

A culture of structured feedback and learning for work teams and other organizational units

Individual personal coaching

Individual career and life planning